(National Sentinel)Â Preemptive Strike: With Democrats set to take over the House in early January after winning a majority in the midterm elections, a leading Republican ally of POTUS Donald Trump has crafted a "confidential plan" to counter an expected rash of investigations by incoming Left-wing committee chairmen.
Titled, "Investigations — My Plan to Counter," by House Freedom Caucus Chairman Mark Meadows, R-N.C., who was expected to become the ranking member of the Oversight and Government Reform Committee, each page of the document contains a "confidential" watermark, Bloomberg Quint reported.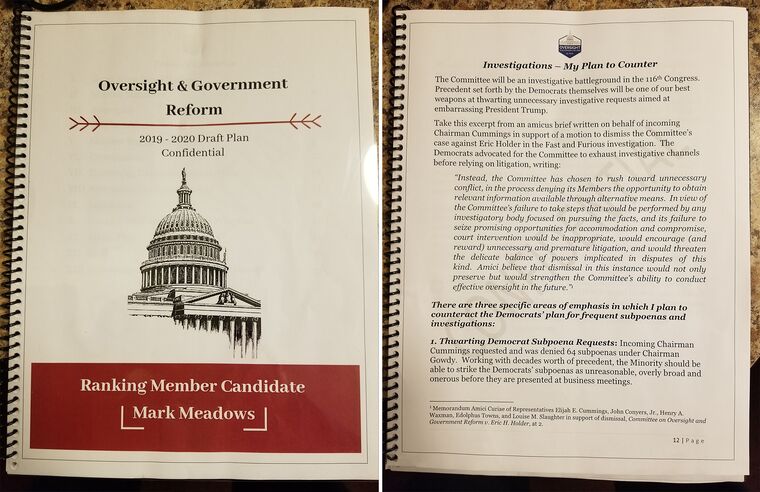 Meadows, however, has taken himself out of the running for the ranking member on the committee and instead Rep. Jim Jordan, R-Ohio, another House Freedom Caucus member, has approached the Republican steering committee about the position.
Bloomberg noted:
The document, obtained by Bloomberg News, provides an unusually candid look at how Republicans may attempt to counter plans by Democrats for an aggressive push to highlight what they see as failures and wrongdoing by the administration in advance of the 2020 elections.
In the opening page, Meadows writes he is "confident that with the right team and member engagement, our conference will be able to tactically play the Democrats' politicized activities to our advantage." He adds, "I believe I can position the committee as an effective platform to win back the House."

Currently, Meadows is chairman of the Oversight Committee's subcommittee on government operations.

Some ranking Democrats, shortly after winning the House earlier this month, promised to launch multiple investigations of POTUS Trump ranging from the Russian collusion hoax to obtaining his tax records, which they've been obsessed with since he refused to reveal them during his campaign.

Meadows, in his document, laid out three strategies for countering Dems:
Describe their subpoena requests as unreasonable, too broad, and designed primarily to embarrass the president. In his document, he calls for "encouraging less-severe means of conducting investigations, like briefings, bipartisan letters, etc.
Point out that Dem investigations threaten the separation of powers. He says that he will claim "the Democrats are interfering too much with presidential duties and have encroached too far on the fundamental powers of the executive branch."
Meadows also plans to create a Republican task force, adding that he is anticipating overlap of the Oversight, Judiciary, and Intelligence committee investigations by Dems. The purpose of the task force is to share information and strategy among GOP members.
"We will need a larger team of experienced investigators who will be able to handle the heavy volume and intellectual challenges presented by the Democrats' attacks," according to the document.
"Americans want their Congress to get things done and focus on their agenda — not on endless, frivolous, and partisan investigations," Meadows wrote.
As we have speculated, Democrats plan to waste the next two years with frivolous and unnecessary investigations of a president whose only 'crime' was beating the Deep State's chosen candidate, Hillary Clinton.
And while these probes will be red meat to their perpetually angry base, we expect the majority of Americans will tire of them quickly, particularly independents, which will then lead to a new GOP majority in 2020 — and a strong POTUS reelection victory.
Never miss a story! Sign up for our daily email newsletter — Click here!
---