(National Sentinel)Â Personal Finances: Slowly but surely, the U.S. economy is emerging from its Obama-induced slumber, with personal household wealth rising again this month to another new record.
As reported by Bloomberg Markets, household wealth soared to $1.7 trillion in the second quarter, driven largely by solid financial gains and escalating home values: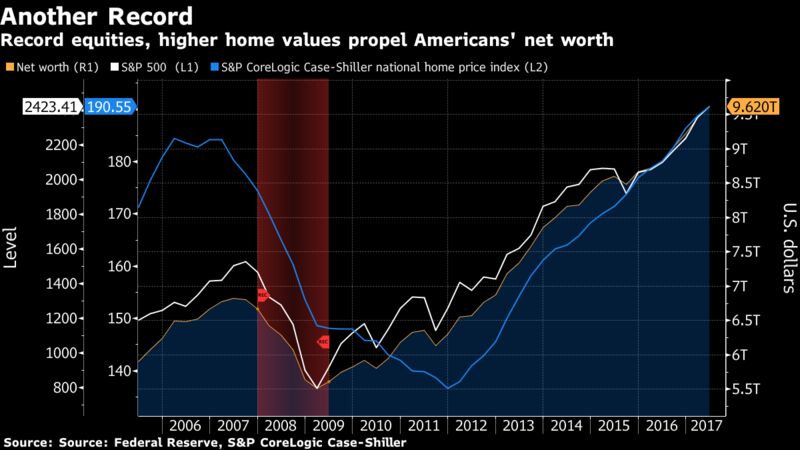 The increase in household wealth reflects steady growth in house prices, which were up 5.7 percent in June from a year ago, based on S&P CoreLogic Case-Shiller data, as well as a 2.6 percent rise last quarter in the S&P 500 Index, which is hovering near a record high.
A strong job market and low inflation also are allowing Americans to improve their purchasing power, helping to sustain household spending, the biggest part of the economy. The report also showed companies had almost $2.3 trillion in liquid assets, giving them the 
As we noted last month, there has been a spate of reports over the summer indicating solid economic gains in the new Trump economy:
The Trump administration has essentially slammed the brakes on regulations, number of new rules is now at a record low. "If you look at what's happening in the first six months for President Trump compared to President Obama, it's staggering," Douglas Holtz-Eakin, president of American Action Forum, told "Fox & Friends" in August.
The regulatory push during the same timeframe during Obama's first term was 20 times more expensive on the U.S. economy.
The Obama administration's first six months of regulations imposed $24.4 billion in total costs, compared with the $1.2 billion for the Trump administration. "The business community really feels like the beatings have stopped, Washington is not trying to put them in the bullseye, and they can go about running their businesses and not worrying about the regulations," Holz-Eakin, who ran the Congressional Budget Office under then-President George W. Bush.
Overseas demand is driving the best earnings season for U.S. companies in 13 years.
The U.S. stock market has risen to a record high.
Advertising disclaimer: Click here