(National Sentinel) Political Disaster: No sooner than a "star"-studded telethon aimed at raising money for victims of Hurricanes Harvey and Irma began than it immediately turned political, with the major theme being — you guessed it — "climate change."
Singer/songwriter Stevie Wonder started off the event by staking out the political ground much in the way a dog pisses in his yard to mark his turf, saying, "Anyone who believes that there's no such thing as global warming must be blind or unintelligent."
Of course, it didn't end there, as The Daily Caller reported:
Wonder wasn't the only participant who got political during the telethon. Singer Beyoncé contributed a video that started, "During a time when it's impossible to watch the news without seeing violence or racism in this country. Just when you think it couldn't possibly be worse, natural disasters take precious life, do massive damage, and forever change lives."
Continuing, Beyoncé said, "The effects of climate change are playing out around the world everyday." She then implied that climate change was behind the hurricanes, a monsoon in India and the recent earthquake in Mexico.
NBC's Matt Lauer, following Beyoncé, intoned "Hurricane Irma was the most powerful Atlantic storm ever recorded, cutting a path of destruction across the Caribbean, the U.S. Virgin Islands and then setting its sights on the U.S. mainland."
False.
Grabien News reports that, according to Colorado State University meteologist, Philip Klotzbach, Hurricane Irma is actually tied for the 7th strongest hurricane ever recorded: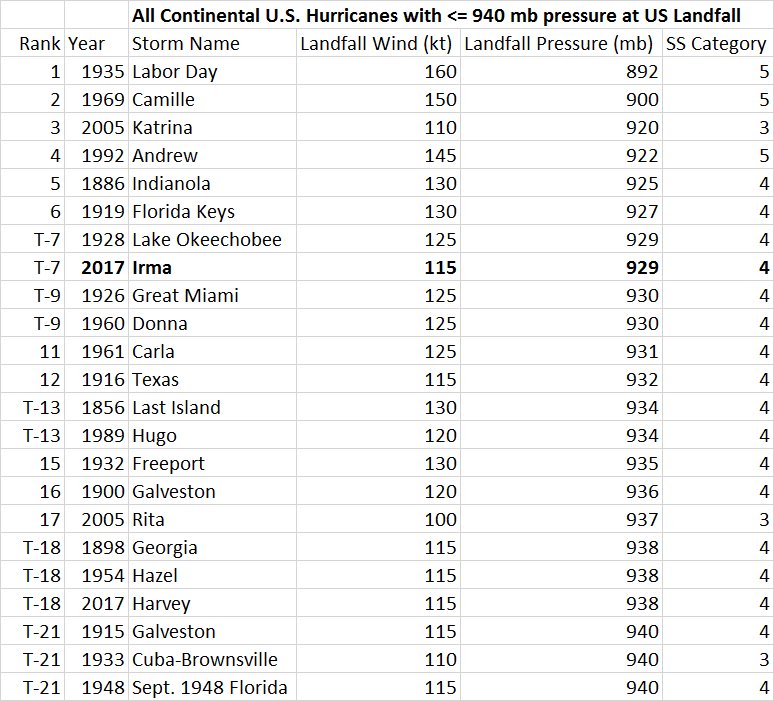 Groan-worthy performances, to say the least. And no doubt angering to the vast majority of Americans who, unbeknownst to these tone-deaf, sequestered "stars," are sick and tired of being told they're racist, bigoted scumbags simply because of their political beliefs and their very healthy skepticism of bogus climate "science."
It's gotten to the point that tens of millions of Americans will no longer watch these insult-fests because they know what's coming. That's the entertainment industry's fault.
The Hand-in-Hand event last night raised $14 million. Imagine how much more it could have raised if the participants weren't pushing climate conspiracies laced with character assassinations that target two-thirds of potential viewers.
Advertising disclaimer: Click here